Tips for your dinner date at home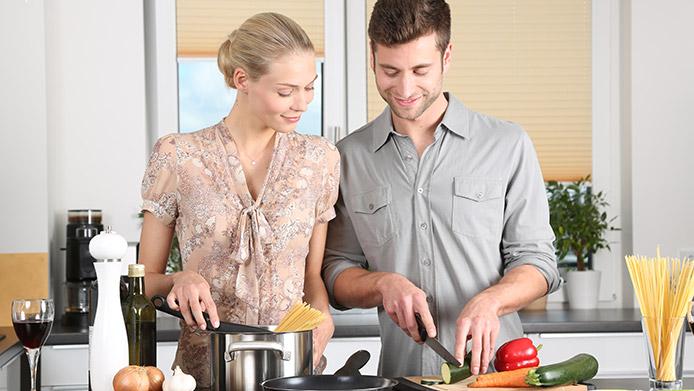 Romantic dinner for two of you is simple and necessary part during a date. Sometimes you don't need to spend a lot of money to book a nice restaurant and buy a gift. It's easier for both men and women to prepare a surprise for each other and prepare everything well for the dinner date at home.
Details of you plan
Plan the time and place for a romantic seclusion. Perhaps, it will be the roof of the house, living room, or a small glade for picnics. To create an appropriate atmosphere, you need to pay attention to even the smallest details - lighting, decorations, and menu. You should avoid the abundance of flour and fatty foods, and strong drinks. The best choice for a romantic dinner date at home is delicious liqueur, wine, champagne, low alcohol cocktails, and juice. Also, choose gentle music and beautiful outfits.
Themed evening
You can arrange an extraordinary party instead of the usual candlelit evening. For example, it can be a romantic evening in the Chinese style. Make an oriental make-up, put on a peignoir with hieroglyphs, decorate the room with oriental symbol branches, and light incense sticks. For dinner, you can serve Japanese dishes: sushi and light sandwiches. Learn to draw hieroglyphs with your beloved, listen to Japanese music, feed each other with a delicious dessert, and arrange a tea ceremony. Such evenings can be made in any style - Spanish, Arabic, French, Italian, and so on. After all, this is an original and very interesting idea.
Treat each other to some delicious dishes
Joint activities, including cooking, bring people together. You do not have to be great experts in cooking, there are a lot of easy dinner date recipes for two. Set aside the cloying soups and chops, find an interesting recipe and cook something tasty together. You should not cook junk and fatty food - it is unlikely you will have the strength to continue the evening. But vegetables, stewed meat, and interesting desserts will please everyone!
Tasting
Feel like the real tasters of favorite wine or liqueurs. Make light refreshments and buy a couple of bottles of good wine. Fruit cuts, chocolate, and cream will be a good addition to it. Calm instrumental music and candles can help you create a romantic atmosphere. Alcohol will undoubtedly relax both of you and give courage and fantasy to continue such a romantic date.
Dinner date recipes
A romantic evening cannot be imagined without a delicious dinner. If you do not doubt your culinary skills, you can start cooking dinner for a date on your own. If tea is the limit of your skill in the kitchen, then order food in a restaurant. A romantic dinner for two should surprise and make your chosen one look at you in a new way. Just remember, the ideal option for a romantic evening is a couple of salads, one hot dish, and a dessert. Choose lighter drinks: champagne, wine, or low-alcohol cocktails. Also, do not forget about aphrodisiacs, as these products can give a touch of passion to your date.
Dinner date outfit
Our dinner date ideas will help you make a romantic evening for your beloved most memorable. You can take these recommendations as a basis, complementing with your ideas, because only you know all the desires and preferences of your soul mate.