How to make her happy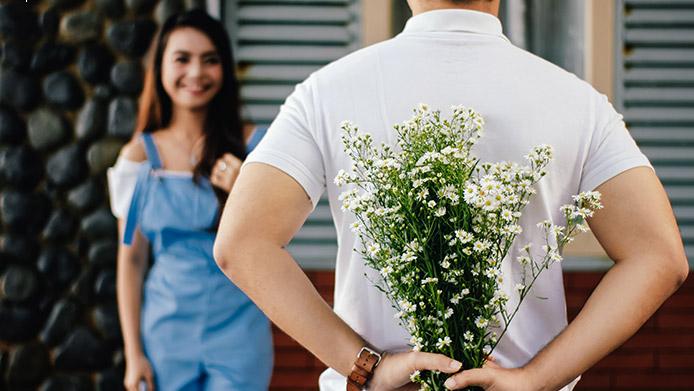 A happy family is a family in which a woman plays the role of a mother and wife. And the happiness of a woman lies in herself, that's how it turns out. Accept your feminine nature: the nature of a woman is to harmonize the world around her, if not everything, then at least family relationships. A woman should understand that the head of the family is a man, and in no case should she assume unusual duties. A woman is born to give love and accept love, to support and inspire her husband and children, to help with advice, showing respect. To be feminine, soft. To be a reliable friend for each family member.
How to keep a woman happy in a relationship? This is a complicated task. But we will help you cope with such a difficulty.
1. Tell her about love
Many men are not inclined to be frank and very rarely talk about love, even if they madly love their partner. Remember that women need to hear this, and those words must be sincere. If you do not like banal confessions, you can come up with some funny expressions of your own that only you and your beloved will understand. It will cheer up both of you and add happy moments.
2. Prove your love
Every woman will be happy to hear sincere words of love, but the confirmation of these words in actions will make her even happier. It сoncerns not just expensive gifts. Enough care and attention, help in some affairs, fulfillment of requests, cute souvenirs or flowers, any surprises will be pleasant to her. Your efforts will not go unnoticed. And do not try to show jealousy - this is not a proof of love but an indicator of selfishness and self-doubt.
3. Learn to listen to her
Many men ignore the words of women, only pretending to listen. Try to listen and understand your sweetheart. Even if you are not very interested in her problems, you should be controlled by the desire to help your loved one. Listen to her and let her speak out, try to help somehow. This will remove the nervous tension from your communication too. Understanding that you want to help her, a woman will feel more relaxed, because you are her reliable support in life.
4. Consider the psychological characteristics
Most women need to know where their man is and with whom. This is a psychological feature that a woman can hardly control. At the same time, men often feel the need to be alone or in the company of other people. Therefore, a man needs only to discuss with his beloved when and how long he will be absent. This will help to avoid conflicts and reproaches. However, there are women who also need to be alone sometimes or chat with other people, so in this case a man should give her that opportunity. It is important that both partners understand each other's needs.
5. Give her the opportunity to be independent
Some men try to solve all the problems for a woman. You should not do that. Leave a woman at least sometimes the right to choose and the right to make decisions, or learn how to solve problems together. Especially it concerns the choice of occupation in life - for example, to go to work or remain a housewife. After all, all women are different, and their choice must be respected.
Making a Woman Happy: a Guide for Men6. Give her confidence in the future.
This need is inherent in nature itself - a woman needs to feel that she is near a reliable man who will always take care of her and the children, a man who is ready to make joint plans and seek their fulfillment.
7. Allow her to be weak
Even if your woman manifests herself in public as a strong personality, then at least at home try to make her feel like a weak woman. Surround her with care and tenderness, make it clear that you are her reliance and support. Strong women can solve any problem easily without men, but they can only relax in the presence of really close and beloved men.
8. Create confidence that she is the best for you
Let her know that she is the most beautiful and the best for you. This will give her confidence, and a confident woman is always a plus for a man. Appreciate her uniqueness, because all women are different. Let her understand that for you, she is special and unique, never compare her with others. Of course, all women are different. But if you learn to understand your woman, this is the first step towards a perfect happy relationship. If you have problems with understanding, follow these tips. Even if you do not understand your woman completely, try to surround her with love and care, appreciate her beliefs and character, give her the assurance that she is the one and ideal for you. You will notice how she will change. She will shine with happiness and will respond to you the same.
If both partners strive to make each other happy, then harmony will certainly come into the relationship.