Romantic story of Bruce and Jun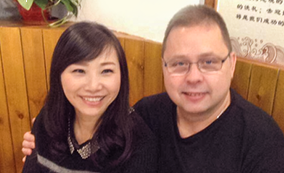 We are so excited that the flower of love blossomed again on our website. Whispark has always been committed to providing higher specialized customer services for our sincere members. The experience of Bruce proves that Whispark really helps our members to gain their love. Bruce and Jun were glad to share their experience to all of us. Let's hear their love story together.

When first viewed the profile photo of Jun on Whispark, Bruce was deeply attracted by the smile of Jun. Without any hesitating, Bruce sent out the first message to Jun and he got replied immediately. After greeting and introducing with each other, they started to chat more about their interest and daily life. Jun was so joyful when talking with Bruce as he is a humorous person that would make her laugh a lot.

The smile of Jun and humorous of Bruce brought them together and escalated their relationship quickly. After few months chatting on site, they both agreed to meet and chat with each other face to face. To better fulfill their requirement, Whispark arrange a wonderful meet for them in Guilin.
Bruce flow long time from German to China in order to date with the beautiful lady Jun in Guilin. The first day when they met each other, they shared a nice meal together. Bruce spent several days here to travel around with Jun. To see her hometown, friends and also enjoy the beautiful views. It is a wonderful trip for Bruce, enjoyed the wonderful natural views with this kind and beautiful lady. Glad to see their happiness smile that presented on photo!
Life isn't like a fairy tale — you can't just kiss a frog to find your perfect match. Time and tide wait for no man. Go chat with the girls you like on Whispark!