Great news! The fruit of love has ripened. Let's taste it!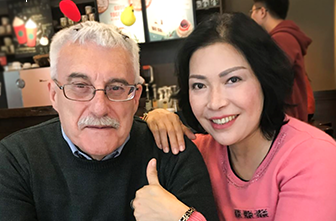 The seed is sowed, and people take so much effort to bring it up with the strong belief of "sow nothing, reap nothing". Weeding, fertilizing, watering... time and energy are consuming. Though it's toilsome, people are still full of hope for the plenteous harvest. When the day comes, joy and happiness filled the air.
Let's say Whispark is the fertile field, people who believed in love come to sow their love seeds. It is truth that some may give up and quit halfway when they feel the difficulty. But fortunately, most of our members still keep their resolve on cultivating the seeds. And it seems they did not feel much suffer during the process. On the contrary, fun and joy light their life up. Why?
Edward, a 68 year old man, who was also a loyal member on Whispark. Taken the attitude of having a try, he registered his account and sowed his seed on Whispark in 2017. "68 years old is no longer a young age. I thought I won't meet my lover. But Whispark changed my life by bringing me my destiny." Edward said. He met his partner Xixi on Whispark. They knew each other by chatting, letter exchanging and even making phone call when they got familiar. Through deeply communication, they felt love with each other. The buds of love is blooming, and the aroma attracted them to meet. Finally they have real meet with each other through our Romance Meet Service.
Whispark served as a fertile field, it is the good place for love growing. Our team are committed to doing our utmost best to bring our member with fun and joy in the process of love cultivation. Services like Online Chat, Letter and Photo, Love Call and Romance Meet etc. are all nutrient for love growing. Especially the Romance Meet Service, which is the most powerful.
Romance Meet is one of our special services. Though the love feeling for online dating is virtual, Romance Meet service is so magic that it makes such feeling more realistic. It comes with the hope that members could have a good chance to arrange a real meet with their interested and beloved one, which greatly help to fertilize their growth of love.
The real meet will come easily when member get ready for it. Simply fill a meeting request, choose your destination city and date, then submit your invitation. Our system will send out your invitation to lady members from the destination city. Once the lady confirms your invitation and payment finished, your romance date gets ready! An exciting meet which contains a romantic candlelight dinner with your lady and free translation services for 1.5 hours would be arranged properly, just enjoy it!
We are so proud that our services help numerous members find their love. Are you the next lucky one? If you long for a little more excitement in your love searching journey, Romance Meet is ready for you. It is our magic service that accelerating the ripening of love fruit.