The 88th couple on Lucky August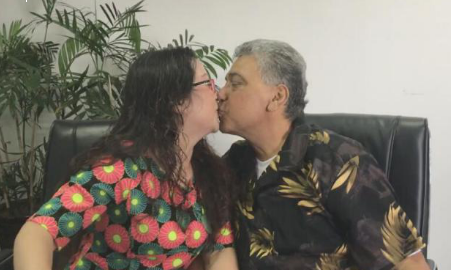 On Lucky August, known as "Lucky Number 8" in China, our 88th couple, Richard and Linda, have successfully taken the most important step -- They have got married! And the sweet couple are happy to share their love story.
"I didn't believe the fate for the pass 60 years of my life until I meet Linda." said Richard, with a big smile on his face. "She came to me first by the letter, then I couldn't help to keep chatting with her as we have the same hobby, same interest, and even the same point of view. "

"I knew she loves red rose from her profile. So I ordered a bunch of red rose to her on the Chinese Valentines Day. She was so surprised and delighted with that. And thanks to the attentive service of Whispark, it was well delivered to my love at the right timing." said Richard.

He added, "It's excited that I got the strong feeling for her so I decided to meet Linda in China. And you know what, I knew immediately she would be my wife at the First sight. I'm really happy to marry Linda and can't wait to take her back to Hawaii with me. Thank you Whispark for bringing this such extraordinary experience to us!"
Whispark is always committed to helping our members to find their other half, and we believe that everyone in the world deserves good love. We are so exciting that some of our members can gain precious love on our website. And maybe you are the next lucky one! Go capture your dream lady's heart on Whispark now!